On May 10th 2014, we will make our way from sunny Sheffield to Bilston, near Wolverhampton for the
Dames of Darkness Festival
. Dames of Darkness is an annual one day festival hosted by Apparition, a female-fronted gothic metal band from Stafford.
Last year Delain headlined the event along with bands such as Visions of Atlantis, Ex Libris and Azylya. This year Stream of Passion and Xandria headline. The festival will also include the hosts, Apparition along with ex-Visions of Atlantis vocalist Maxi Nil's new band - Jaded Star, Belgium gothic metallers Skeptical Minds, Sheffield's own Dyonisis, symphonic metallers Divided We Fall and melodic metallers Incarnadine Coven.
For the second year running the festival will be held at The Robin 2, a 700 capacity live music venue in deepest darkest Bilston, Wolverhampton. The Robin 2 is host to numerous gigs throughout the year and is looking forward to hosting bands such as
Mostly Autumn
,
Nile
and
Imperia
to name but a few.
So what do we know about the bands playing in the Dames of Darkness line-up?
The line up features a collection of both well known and lesser known bands and a diverse selection of genres from the many strands of traditional female fronted metal.
The Headliners
A Dutch progressive metal band with symphonic and gothic influences founded by guitarist Arjen Anthony Lucassen and Mexican singer and violinist Marcela Bovio. They have recently released their new album
A War of our Own
which was the first album they have released independently through crowd funding.
Femetalism saw them
live
back in December 2012 when they supported Epica. They were fantastic live and gave a real high energy performance. Looking forward to seeing them perform live again.
A German symphonic metal band, founded by Marco Heubaum in 1994. The band's music combines elements of symphonic metal with light electronic elements. They are just about to release their new album Sacrificion which is the first album featuring their new vocalist Dianne van Giersbergen.
I have not seen Xandria live before but have followed them through the years. I loved Neverworld's End and although a bit disappointed to not to be seeing Manuela Kraller at the helm, I am really looking forward to seeing Dianne in action based on what I have seen online and her work with Ex Libris.
The Festival Hosts
A female vocal metal project created by David Homer in 1997 and based in Stafford. Their music is gothic inspired and although initially a side project, the band have performed live supporting the likes of Delain, Tarja, Revamp and Sirenia. A variety of musicians have worked on the project since its inception but for Dames of Darkness the female vocals will be provided by
Grace Meridan
.
The Rest of the Lineup
Maxi Nil
is best known for her work as lead vocalist in the Austrian symphonic power metal band Visions of Atlantis. Now the Greek songstress is fronting her own band Jaded Star. As well as Dames of Darkness, Jaded Star have also been announced as playing Metal Female Voices Festival this year.
A electro-industrial metal band from Belgium formed in 2002. They have released 2 EPs, 2 albums and one live DVD along with their own comic. They have played numerous live gigs with big names such as Epica, After Forever and Apocalyptica, although this is their first UK gig. The band have been announced for this years Metal Female Voices Festival in Belgium with Jaded Star.
A Sheffield quartet who fuse elements of rock, trip-hop and folk and have dual vocal harmonies from singers Nel and Lou. Formed in 2005 the band have released a limited edition EP and 2 full length albums to date. They recently announced that after Dames of Darkness they will be taking a break from playing live, but that their new album will be released as soon as possible.

A symphonic metal band from Stafford who met at university whilst studying music technology. They released an EP in 2012 and are currently working on their first album which they will be releasing this year.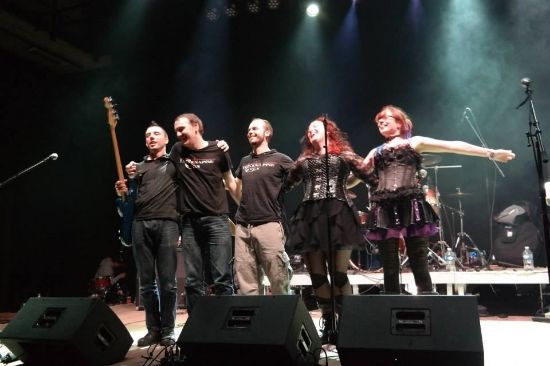 A soprano fronted melodic symphonic metal band from Reading who formed in 2010 and have been performing live since 2012. The band plan to have their EP ready in time for the festival.
Can I still get tickets?
If you want to get tickets there is still time. Tickets are available from The Robin 2's
website
and will also be available on the door. Tickets are just £25 in advance and £30 on the day.