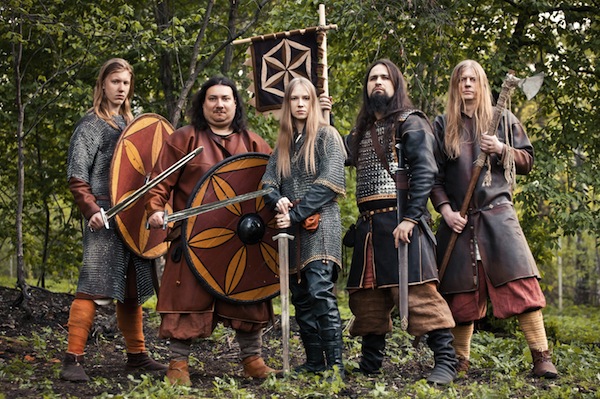 Don't panic! Extreme Thursday might still be sunning itself on holiday but never fear. In it's place I bring you
Arkona
, a Russian Pagan Metal band formed in 2002. Their lyrics are influenced by Russian folklore and Slavic mythology, and they use several traditional Russian musical instruments in their music. Combining metal riffs, pounding drums and folk melodies the band have a unique sound, topped off by lead signer Maria Arkhipova's impressive death growl.
Yav is their 7th studio album and is due to be released in the UK on 5th May 2014.
The band are made up of vocalist and keyboard player Maria 'Masha Scream' Arkhipova, guitarist Sergie 'Lazar' Atrashkevich, bassist Ruslan 'Kniaz' Rosomaherov, drummer Andrey Ishchenko and Vladimir 'Volk' Reshetnikov on the wind ethnic instruments. They are a busy bunch with most of the lineup also making up
Pagan/Goth Rock band,
Nargathrond
(a project that has now been put on hold, due to the success of Arkona).
In March, the band released a teaser video for the new album which features a snippet from each track:
The album is made up of 9 tracks:
Zarozhdenie
Na strazhe novyh let
Serbia
Zov pustyh dereven'
Gorod snov
Ved'ma
Chado indigo
Jav'
V ob'jat'jah kramoly
The band are currently touring although sadly there are no UK dates planned.
18.04 Nova Chmelnice, Prague, Czech Republic
19.04 Faval, Brno, Czech Republic
20.04 Tirish Pub, Banska Bystrica, Slovakia
21.04 Durer Kert, Budapest, Hungary
23.04 Alibi, Wroclaw, Poland
24.04 Mega Club, Katowice, Poland
25.04 Ragnarök Festival, Lichtenfels, Germany
03.05 De Chair el D'acier, Macon, France
30.05 Out and Loud Festival, Geiselwind, Germany
07.06 Metalhead Meeting 2014, Bucharest, Romania
08.06 Underwall Festival, Zadar, Croatia
21.06 Dokk'em open air, Dokkum, Netherlands
28.06 Basinfire festival, Spalene Porici, Czech Republic
19.07 Folk Summer Fest, Гусь-Хрустальный, Россия
01.08 Gößnitz Open Air, Gößnitz, Germany
14.08 Sabaton Open Air - Rockstad:Falun
16.08 Metal Crowd Open Air, Речица, Беларусь
If you want to hear a full track from the band, check out Goi, Rode, Goi taken from their fifth studio album of the same name.
Check the band out on
Facebook
and give the video and teaser a listen. Then head on over to
here
and get it pre-ordered!